Tips for Holiday Spending
11/01/2019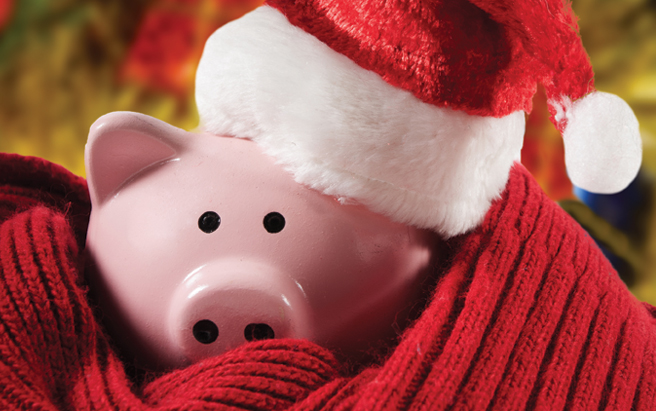 While the holiday season is filled with family time, comfort food, and parties, it's also a time of year that brings financial stress to many. Last year, 74% of Americans failed to budget properly for holiday shopping, leaving them to ring in the new year with more than just a champagne toast— on average, Americans racked up over $1,000 of debt from buying gifts, which they carried over into the new year. Although determining and setting a budget for holiday shopping can seem overwhelming, you'll thank yourself for doing so when the holidays are over and you can start 2020 without any excess debt. Here are several tips to help you keep the holidays jolly and skip the high credit card bills this year:
Make a List (And Check It Twice)
Start by making a list of gift recipients. Expensive wish lists are only great if Santa is the one footing the bill— remember, he has to buy presents for the entire world, but you don't. Avoid spending an amount you cannot fully repay in three months. For example, if you have $300 left at the end of the month after paying your bills and adding some to savings, your total holiday shopping budget should be no more than $900. Putting gifts on your credit card isn't wise unless you know you can pay off your balance in full before your payment is due.
Next, make a list of gift wrapping supplies you'll need, and include those in your overall holiday budget. Items needed may include:
Cards
Wrapping paper
Scotch tape
Bows, ribbons, and gift tags
Mailing costs for out of town recipients
Finally, determine how much you can realistically afford to spend on gifts for each person (don't forget to include your office's white elephant gift) and stick to each budget, even if you find "the ultimate gift" after you've already crossed someone off of your list. Be sure to include any travel costs in your budget if you and your family are traveling for the holidays.
If you reach the end of your budgeting and planning, and still need a little extra help funding your holiday shopping, Valley's Holiday Loans offer rates as low as 7.24% APR*, with funds available to you immediately upon approval. With minimal requirements and the opportunity to improve your credit score, you can keep the holidays (and your wallet) merry this year!
Shop Smarter
There's shopping, and then there's smart shopping. It can be tempting to jump at any chance you get to take advantage of a holiday sale, but don't make a purchase just for the sake of hitting a sale. Putting in a little research ahead of time can ensure that you're actually getting a good price. Deal-oriented sites like retailmenot.com or joinhoney.com can help you find savings and coupons for a variety of stores and outlets, and eliminate the need to drive around town and deal with the crowds. If you do have to make a trip to brick and mortar stores, plan your route before leaving home so you can save time and gas. While you're out and about, keep presents stored in the locked trunk of your car— unfortunately, thefts increase during the holiday season. Lastly, keep all of your receipts in case an item needs to be exchanged or returned.
Start Planning for Christmas 2020
It might seem silly to start planning for next year when 2019 isn't over yet. But, if this holiday season has already caused you more than a little financial stress, it's never too early to start preparing. Stock up on discounted gift wrapping supplies after the holiday and get a jumpstart on building your holiday savings fund with Valley's Christmas Club. With no monthly service charge and a low minimum required deposit of $25 to open, you'll earn a competitive rate all year long. We recommend basing next year's budget on what you spend THIS year— divide this year's spend by eleven months (January – November), and commit to depositing that amount in your Christmas Club savings account every month.
At the end of the day, the holiday season isn't about how many expensive gifts you can buy for everyone on your list— it's about spending time with loved ones, eating to your heart's content, and rounding out the end of another year by celebrating everything you're thankful for. If you'd like to learn more about Valley's Christmas Club, our Holiday Loan rates, or any of our savings accounts to help you get a jumpstart on saving in the new year, call or stop by your local branch to visit with one of our friendly and knowledgeable member representatives and get started today!
View all posts