Valley's Community Outreach/Impact Philosophy
Valley has a long-standing belief of supporting the communities we serve. Our dedication to any outreach completed, is provided in the spirit of enriching not only Valley and its employees, but the organizations we affiliate ourselves with and their employees.
Valley's community outreach ensures the organizations we choose to assist, embody the credit union philosophy of "People helping People."
Valley strives to stay continually active and attentive to what is happening in our communities so we can help build a better place for everyone. Valley delivers results through volunteerism of staff, their families, as well as donations and sponsorships.
Through these beliefs, Valley has produced, and continues to expand positive impact to our communities, members, and employees.
Latest Community Projects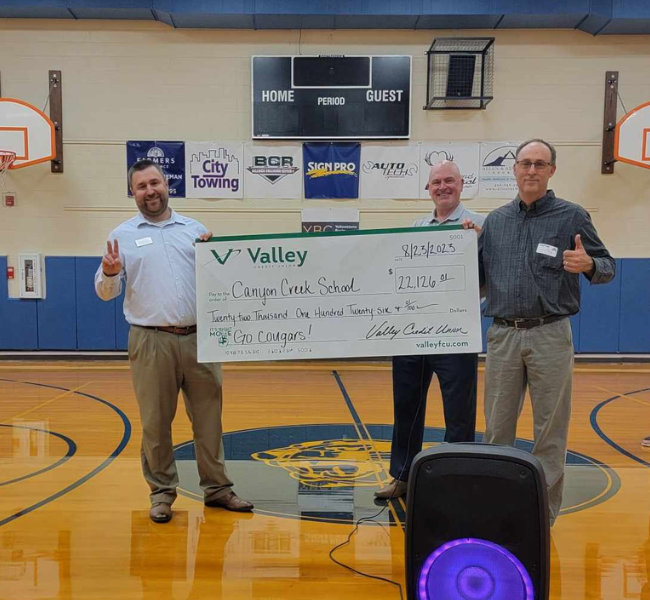 Canyon Creek School
In the world of education, the struggle to balance the budget often leads to tough decisions. One common casualty in these financial challenges is extracurricular activities, which are the lifeblood of a vibrant school community. Recently, Canyon Creek School in Billings had to face this difficult situation when they had to temporarily suspend these activities.
When the news broke that Canyon Creek School had to make these cuts, there was a sense of disappointment in the air. Teachers and students alike understood the impact this decision would have on the overall development of the students. Danielle Roberts, the Business Manager and School Clerk at Canyon Creek, shared that the school community was deeply saddened by the necessity of these cutbacks.
However, there was a glimmer of hope when Valley Credit Union stepped in with a generous donation that breathed new life into the school's extracurricular programs. This unexpected support not only restored hope but also showcased the power of a community uniting to support its young members. Roberts expressed her surprise, saying, "We didn't see this coming; we didn't seek it out. They came out of nowhere, wanting to help us, and it's just amazing." This unexpected turn of events brought renewed enthusiasm to the school's staff and students, who all share a strong bond, much like that of a family.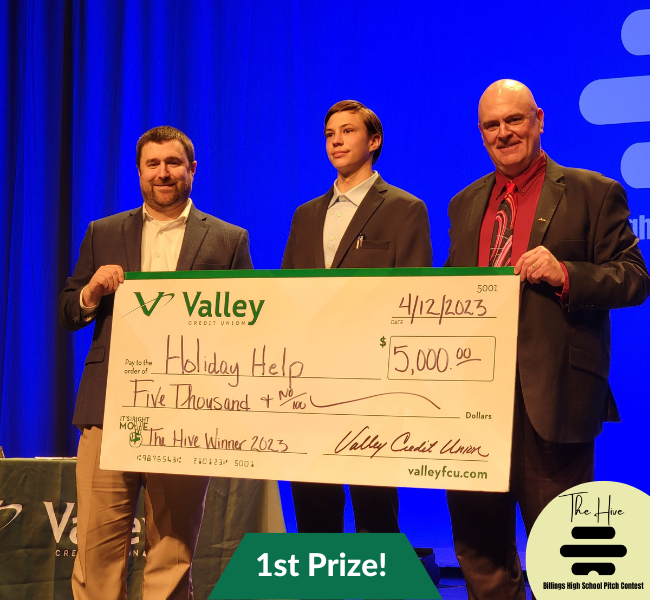 The Hive 2023 - Recap
The Hive 2023 event, which took place April 12th at Montana State University - Billings, was a resounding success! Valley Credit Union, the event's organizer, put on the 2nd Annual Hive to support high school students with entrepreneurial aspirations. The event featured eight high school entrepreneurs pitching their business plans to a panel of local businesspeople, with a total of $8,000 in cash prizes and mentorship opportunities from Rock31, Billings Chamber of Commerce, and AD Creative Group available to the winner.
The event drew an enthusiastic audience, including parents, teachers, and local community members. It showcased the entrepreneurial spirit and creativity of high school students in Billings, providing them with a platform to present their ideas and secure funding. The support and encouragement from the audience played a significant role in making the event a success.
The People's Choice Award, which was voted on by the audience through their phones, went to Stick Buddy, earning the students $500 in cash. Two students from the Career Center invented a tool in their welding class and are looking to get a patent on it. TEDxBillings was the presenting sponsor of this award!
Big Sky Junk Pick Up won third place and $1,000 in cash, compliments of the Northern Hotel, Billings Montana. The business provides a service that comes to you and hauls your stuff to the landfill. The second-place winner was #youmatter, which earned a $1,500 cash prize, also compliments of the Northern Hotel. The business sells bracelets to raise awareness of suicide prevention.
Drumroll, please - the first-place winner of The Hive 2023 was Holiday Help, which won $5,000 in cash, compliments of Valley Credit Union. The business offers holiday decorating services to homes and businesses, and also offers to store decorations after they are taken down. This cash prize and mentorship opportunities provided by the event will undoubtedly help these young entrepreneurs achieve their goals and realize their dreams.
Valley Credit Union has been putting on The Hive event for the past two years to support high school students with entrepreneurial aspirations. This year's event was held at Montana State University Billings and was made possible through the support of sponsors such as the Northern Hotel, Billings Chamber of Commerce, Canvas Creek, AD Creative, Billings Public Schools, MSU Billings, Rock31, TEDxBillings, and Art House Billings.
In conclusion, The Hive 2023 was a fantastic event that provided a platform for high school students in Billings to showcase their entrepreneurial spirit and creativity. The cash prizes and mentorship opportunities provided by the event will undoubtedly help these young entrepreneurs achieve their goals and realize their dreams. We wish them all the best on their journey to becoming their own bosses!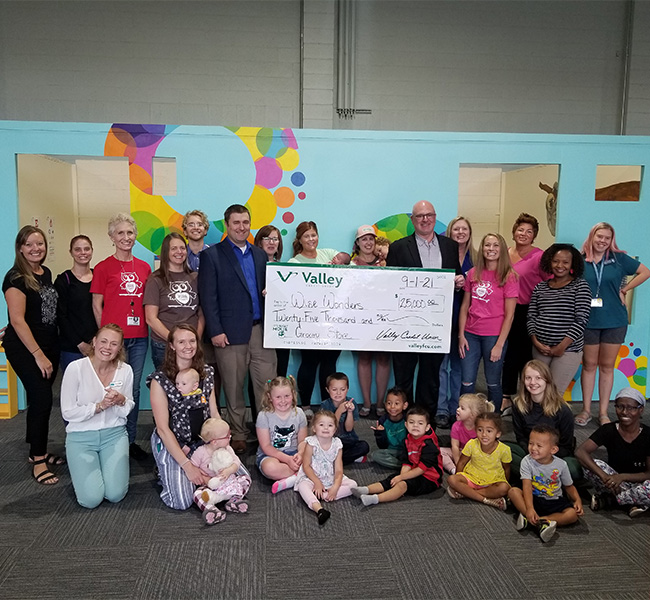 Wise Wonders
Valley Credit Union (Valley) recently donated $25,000 to Wise Wonders Science and Discovery Museum (Wise Wonders) to assist with the museum's latest expansion. These funds will be used to support the local organization in its efforts to build an updated grocery store exhibit for young learners.
"We are proud to sponsor this community-centered organization in its pursuit to foster creativity and engage curious minds through hands-on learning," said Casey Klein, CEO of Valley Credit Union and Wise Wonders board member. "The value that this environment brings our youth is unmatched. We are eager to see the new attractions come to fruition in this renovated space and know that the museum will continue to be a staple for young minds for many years to come."
In 2019, Wise Wonders moved to a new location that offered more room for playful learning and continued growth. However, shortly after their reopening, COVID-19 hit, and the museum was forced to close for over a year. It wasn't until earlier this year, on April 28, 2021, that the museum was able to officially reopen and welcome families back into their facility. Since then, Wise Wonders has worked diligently to get operations back to where they were and proceed with their plans for new attractions and enhanced programming.
One of Wise Wonders' main goals for the new space was to provide a larger-scale grocery store exhibit for children. At the museum's previous location, they had a smaller grocery store set-up that was the most trafficked exhibit and supplied high interaction from children. The funds from Valley will make this vision a reality.
"Wise Wonders is incredibly thankful for the generous support of Valley Credit Union," said Dr. Laura Stockdale, Executive Director of Wise Wonders Children's Museum. "Through their contribution, we will be able to make a fantastic grocery store. This space will be a place for kids to role-play, use their imaginations, work together with other kids, and learn and grow. This exhibit would not be possible without the support from Valley."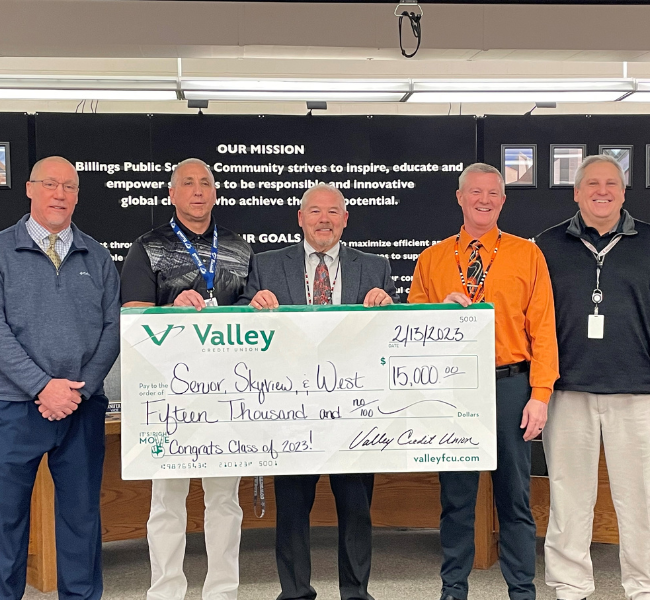 Local High Schools
At Valley we go to local high schools to put on Reality Fairs to teach high school students about real life budgeting. This will consist of the students being placed in a job/family where they will have to go table to table to get a mortgage/rent, phone, utilities, etc... At the end we will take a look over their budget to see how they did. We will also give them any advice we see necessary.
Also, Valley has partnered up with the Billings All High School Celebration Committee to be the title sponsor. This consists of helping fund a sober party the night of graduation for Billings Senior, West and Skyview high school as well as a volunteer at their events, plus much more!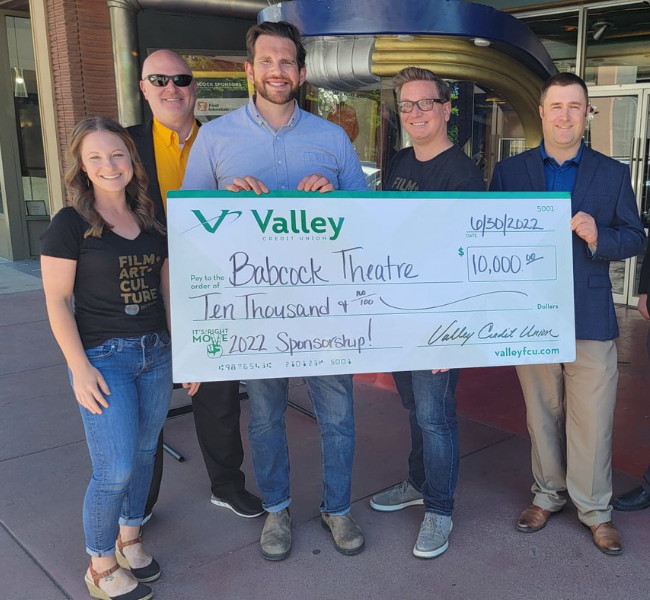 The Historic Babcock Theatre
For the 3rd year in a row, Valley Credit Union is renewing its $10,000 sponsorship to the
Babcock Theatre
, a historical landmark in Downtown Billings. This sponsorship helps the Billings community experience this one of a kind non-profit.
"Being able to help support a non-profit that provides a great partnership with Valley is a big reason we continue this sponsorship," said Brandon Scala, Senior Vice President of Business Development at Valley Credit Union. "The Babcock Theatre continues to be a historic part of Downtown Billing's identity. We hope this theatre remains open for generations to come!"
A few years ago the Babcock Theatre came under ownership of the City of Billings. A local non-profit cinema called, Art House Billings, thought this would be a great opportunity for them to revive the historic theatre that has so much heritage in our city. As a non-profit they work as hard as possible to keep everything affordable, from their concessions (BEST popcorn in town) to the movie ticket itself.
"Valley's Credit Union's contribution to the Babcock not only allows us to continue our unique community programming, but gives us the opportunity to plan for the future of this historic theatre," said Matt Blakeslee, Executive Director and Founder of
Art House Billings
. " We feel the benefit of not only the financial contribution, but the relationships with Valley staff and members as well. The Babcock is truly a community theater and this sponsorship is a testament to that reality. We are all in this together!"
Explorers Academy, A Head Start Program Library
Valley has helped Explorers Academy, A Head Start Program fund their library at their new location at 511 Custer Ave. We have book bins at all of our Billings locations for new and gently used books to be donated to this library. Also, we go over to the library once a month to read to the kids. We help them out with many other events going on throughout the year as well.
Pay-It-Forward Events
Valley Credit Union knows that little good deeds can go a long way towards brightening someone's day. That's why we started our Pay It Forward events, to treat people in the community to a cup of coffee or lunch, or some other small treat to make their day better. Follow us on Facebook/Instagram to see who we treat next! #ValleyCUPaysItForward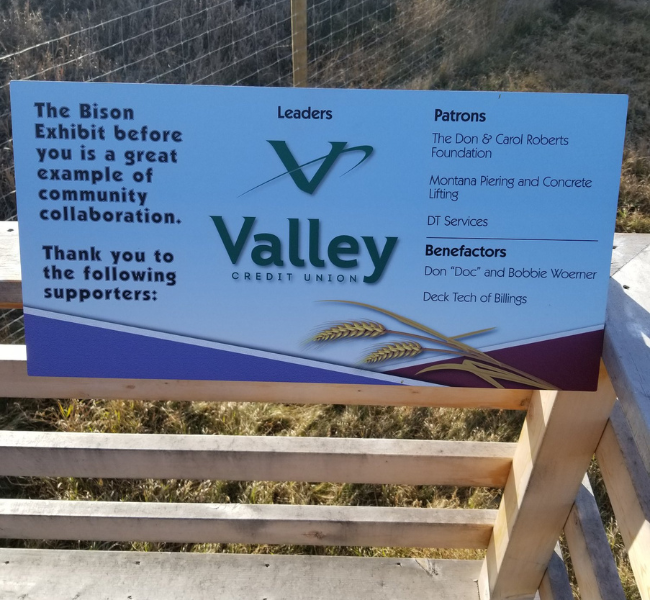 Zoo Montana Bison Exhibit Sponsor
Part of supporting our community is also supporting organizations that share a commitment to our area youth. ZooMontana is one such organization and we are proud to be the primary sponsor for their bison exhibit!
Locally Owned, Locally Loved
Valley Credit Union Sponsorship
Valley Credit Union is proud to help support the community organizations that help make our area great.
Eligibility Guidelines for Sponsorship Requests
Valley Credit Union will consider the following in granting a charitable contribution.
Familiarity with the cause
Impact of our contribution on the organization's cause and number of individuals affected
Recognition of contribution
Programs that help improve the quality of life in our communities
Valley Credit Union generally will not consider making contributions to the following groups:
Political or partisan organizations
Religious, ethnic, labor or fraternal groups unless the group is sponsoring an event or activity that is consistent with the credit union philosophy and corporate objectives
Individuals who are seeking funds for personal endeavors
Trips and tours
To request funding please fill out a Sponsorship Request Form and mail to the address below or drop off at your local branch.
Valley Credit Union
Attn: Matt Macrow, Marketing Department
PO Box 20417
Billings, MT 59104-0417
The Marketing Department meets regularly to consider requests.