Latest Community Projects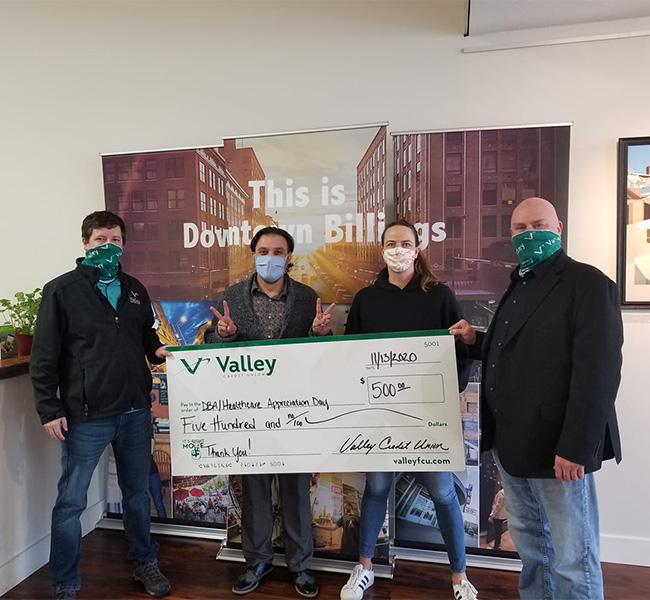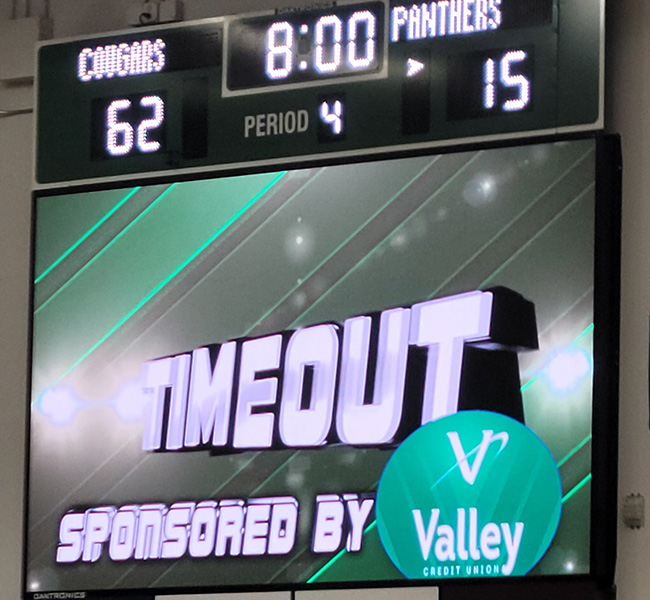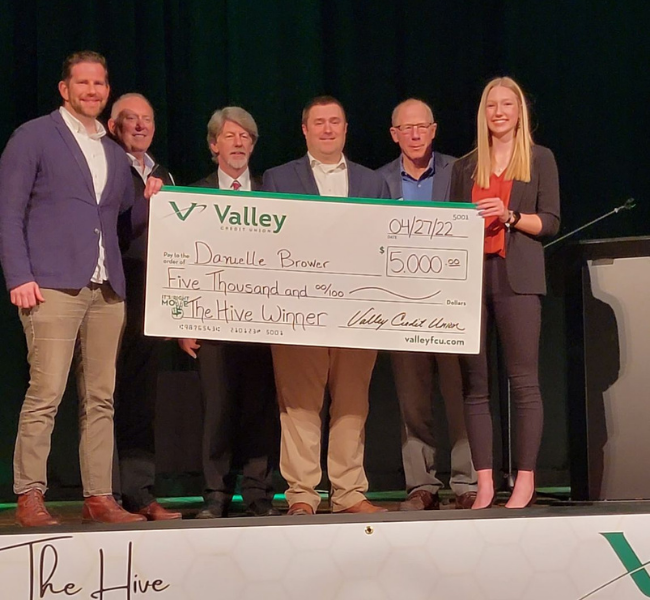 The Hive 2022 - Recap
Danielle Brower (Skyview), a high school entrepreneur, won $5,000 during an event called, The Hive. Kylie Swanton, also a Skyview student, took the second prize ($2,500) prize for her business (Kylie's Calligraphy), and Caden Dekievet, Career Center, took home third prize ($1,000) with his clothing line business.
Six high school entrepreneurs pitched their business ideas in a competition called The Hive that took place at the Babcock Theatre in April. This is an amazing opportunity for students to present their companies, plus, to encourage small business in Billings, MT.
"I created this business using my art tactics and a solution to a problem of losing your lip balm holder all the time," Danielle Brower said. "So, I created lip balm holders and eco-friendly sustainable stickers." She has been running this business, Nelly Nicole Designs, for two years.
"Don't shy away from the challenge, don't shy away from your problems," Caden Dekievet said. "I want people to improve and change and be passionate about something. I also want them to be comfortable and confident because confidence is the main thing and they both go hand in hand. And that's the need that Don't Shy Away fulfills." Caden has a clothing line called "Don't Shy Away" that encourages people to be confident.
Brandon Scala, SVP of Business Development, was asked why Valley Credit Union started this event, "we'd like you to open your business locally, hire local kids, hire local people so that it stays here and our economy will continue to grow," said Brandon Scala. "This is an experience these kids will carry with them for a long time."
Valley Credit Union awarded $5,000 for first prize, The Northern Hotel gave $1,500 for second and $1,000 for third prize. The winner, Brower, will also receive mentoring from the Billings Chamber and Rock 31, plus, advertising help from AD Creative.
The students that competed are all taking an Entrepreneurial Class at Senior, Skyview or the Career Center. During the semester, they've started a business, come up with a business plan, marketed their business, sold their products at pop-up events, and so much more!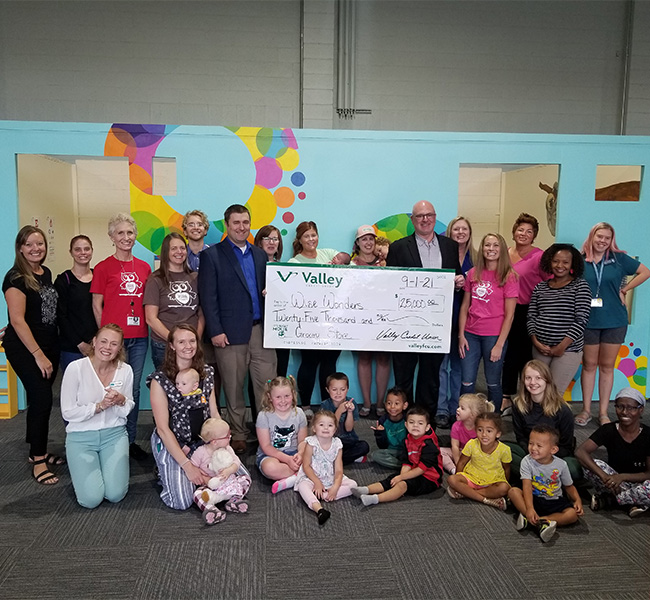 Wise Wonders
Valley Credit Union (Valley) recently donated $25,000 to Wise Wonders Science and Discovery Museum (Wise Wonders) to assist with the museum's latest expansion. These funds will be used to support the local organization in its efforts to build an updated grocery store exhibit for young learners.
"We are proud to sponsor this community-centered organization in its pursuit to foster creativity and engage curious minds through hands-on learning," said Casey Klein, CEO of Valley Credit Union and Wise Wonders board member. "The value that this environment brings our youth is unmatched. We are eager to see the new attractions come to fruition in this renovated space and know that the museum will continue to be a staple for young minds for many years to come."
In 2019, Wise Wonders moved to a new location that offered more room for playful learning and continued growth. However, shortly after their reopening, COVID-19 hit, and the museum was forced to close for over a year. It wasn't until earlier this year, on April 28, 2021, that the museum was able to officially reopen and welcome families back into their facility. Since then, Wise Wonders has worked diligently to get operations back to where they were and proceed with their plans for new attractions and enhanced programming.
One of Wise Wonders' main goals for the new space was to provide a larger-scale grocery store exhibit for children. At the museum's previous location, they had a smaller grocery store set-up that was the most trafficked exhibit and supplied high interaction from children. The funds from Valley will make this vision a reality.
"Wise Wonders is incredibly thankful for the generous support of Valley Credit Union," said Dr. Laura Stockdale, Executive Director of Wise Wonders Children's Museum. "Through their contribution, we will be able to make a fantastic grocery store. This space will be a place for kids to role-play, use their imaginations, work together with other kids, and learn and grow. This exhibit would not be possible without the support from Valley."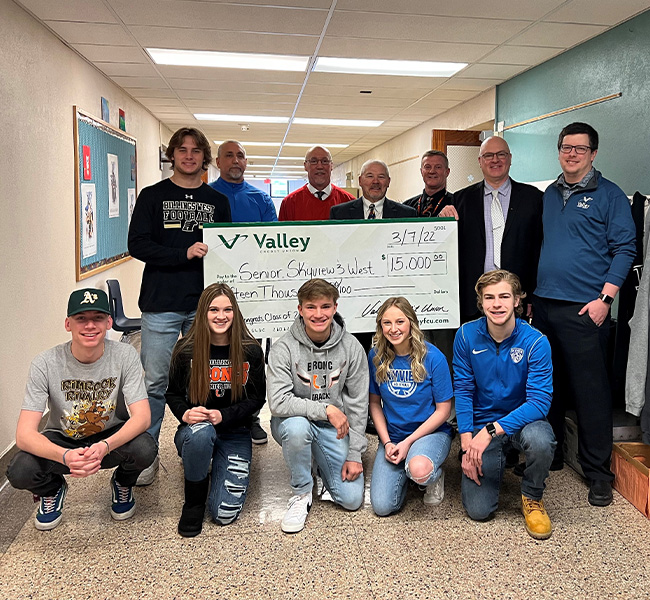 Local High Schools
At Valley we go to local high schools to put on Reality Fairs to teach high school students about real life budgeting. This will consist of the students being placed in a job/family where they will have to go table to table to get a mortgage/rent, phone, utilities, etc... At the end we will take a look over their budget to see how they did. We will also give them any advice we see necessary.
Also, Valley has partnered up with the Billings All High School Celebration Committee to be the title sponsor. This consists of helping fund a sober party the night of graduation for Billings Senior, West and Skyview high school as well as a parade for each high school, plus much more.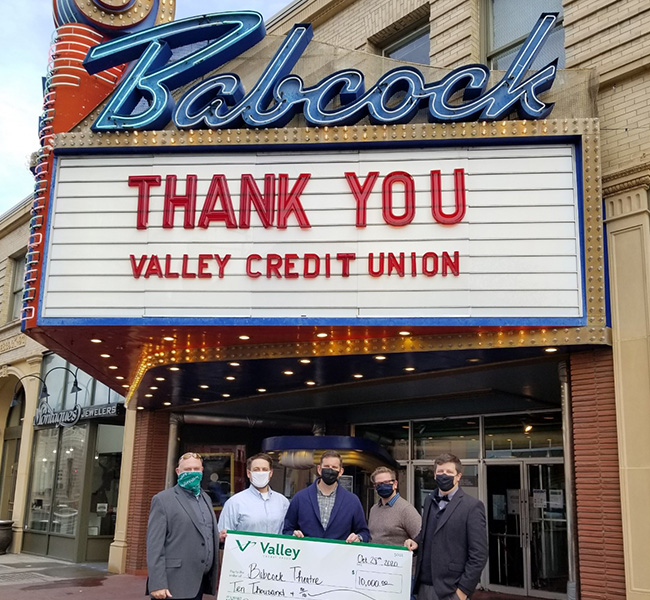 The Historic Babcock Theatre
Valley Credit Union is renewing its $10,000 sponsorship of the Babcock Theater, a historical landmark in Downtown Billings, for the second year in a row. This sponsorship will bolster the local business that brings opportunity, culture and so much more to the Billings community as it continues to navigate COVID-19 restrictions.
Babcock Theatre has been a staple in the Billings community for over a century. After years of transformation and resotration, Art House Cinema took over management of the historic theatre in 2018. Through the funds and support provided by Valley Credit Union and the community, Art House can run Babcock as a true state of the art cinema. Meaning they can bring in the biggest and best films being released to Downtown Billings for the first time in over 30 years.
"Valley Credit Union's choice to sponsor the theatre is a shining example of community partnership and their commitment to film, art, and culture in our community," said Matt Blakeslee, Executive Director and Founder of Art House Cinema. "Due to COVID-19 restrictions and our efforts to keep the community safe, we have been extremely limited on the number of tickets we can sell and what films are available for us to screen. This sponsorship sustains our operations and allows us to continue to plan for a brighter future, knowing that we have support from our community."
Explorers Academy, A Head Start Program Library
Valley has helped Explorers Academy, A Head Start Program fund their library at their new location at 511 Custer Ave. We have book bins at all of our Billings locations for new and gently used books to be donated to this library. Also, we go over to the library once a month to read to the kids. We help them out with many other events going on throughout the year as well.
Pay-It-Forward Events
Valley Credit Union knows that little good deeds can go a long way towards brightening someone's day. That's why we started our Pay It Forward events, to treat people in the community to a cup of coffee or lunch, or some other small treat to make their day better. Follow us on Facebook/Instagram to see who we treat next! #ValleyCUPaysItForward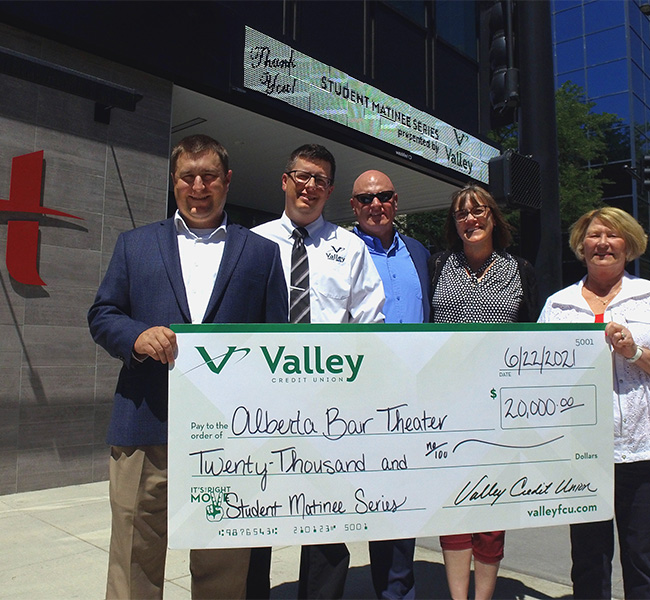 Alberta Bair Theater(ABT) Education Series
Valley has been a proud sponsor for the ABT Education Series for over five years. During the school year, ABT presents specially designed matinees for students and schools at discounted prices. All of the performances are one-hour (except the Opera) and represent a global spectrum of cultural art forms. Each show is recommended for certain grade levels from pre-kindergarten to grade 12. The ABT welcomes all public, private and home schools – as well as the general public – to their student matinee performances. Each performance has a study guide, available on their website, with specific program information, discussion questions and activities to enhance everyone's experience at the theater. Learn more!
Zoo Montana Sponsorship
Part of supporting our community is also supporting organizations that share a commitment to our area youth. ZooMontana is one such organization and we are proud to be the primary sponsor for their bison exhibit! Learn more about all ZooMontana offers.
For our latest community events, be sure to check us our on Facebook or our News & Events page of our website.
Locally Owned, Locally Loved
Valley Credit Union Sponsorship
Valley Credit Union is proud to help support the community organizations that help make our area great.
Eligibility Guidelines for Sponsorship Requests
Valley Credit Union will consider the following in granting a charitable contribution.
Familiarity with the cause
Impact of our contribution on the organization's cause and number of individuals affected
Recognition of contribution
Programs that help improve the quality of life in our communities
Valley Credit Union generally will not consider making contributions to the following groups:
Political or partisan organizations
Religious, ethnic, labor or fraternal groups unless the group is sponsoring an event or activity that is consistent with the credit union philosophy and corporate objectives
Individuals who are seeking funds for personal endeavors
Trips and tours
To request funding please fill out a Sponsorship Request Form and mail to the address below or drop off at your local branch.
Valley Credit Union
Attn: Matt Macrow, Marketing Department
PO Box 20417
Billings, MT 59104-0417
The Marketing Department meets regularly to consider requests.