Getting Pre-Approved For a Home Loan
03/01/2019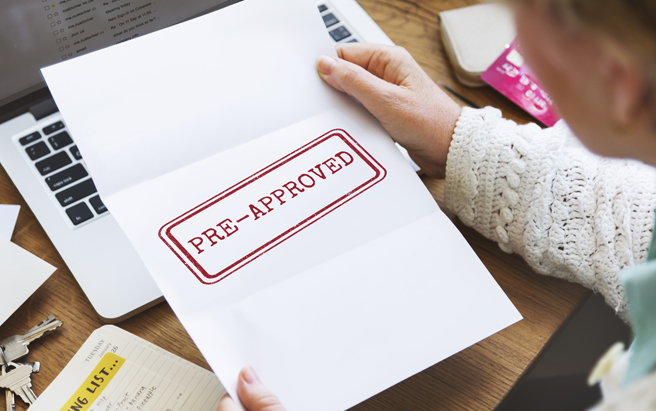 Buying a house, whether it's a starter home or your forever home, is a big deal. In order to ensure that you don't fall in love with a house before you know if you can afford it, it's best to start the homebuying process in a mortgage lender's office, not at an open house or on Zillow.
A mortgage pre-loan is offered from a lender based on what you're qualified to borrow up to a specific amount at a specific interest rate determined by your credit score and lending terms. It is recommended that you keep your mortgage and all fees (insurance and PMI if applicable) to 25% or less of your net monthly income to ensure that you aren't over-extending yourself.
First though, you'll want to apply and get pre-approved. Though pre-approval isn't a hard guarantee of a loan, it IS a vote of confidence that you're more than likely eligible to borrow. To apply, you'll need to supply proof of income, tax returns, W2s from the previous two years, and a valid ID. Pre-approval lasts between 60 and 90 days, depending on the lender.
Valley has several types of loans available, all of which are dependent on a variety of factors including your credit score, amount available for a down payment, and level of income:
FHA Loan: These types of loans are insured by the Federal Housing Administration, have a more flexible credit qualification, and accept a smaller down payment (as low as 3.5%). While a lower credit score is also accepted, borrowers are required to pay a monthly mortgage insurance premium (1.75% upfront), regardless of the down payment. Typically, these insurance payments last for the duration of the mortgage term.
Conventional Loan: Conventional loans are not insured by any government agency, and require both a higher credit score (no lower than 620) and a higher down payment (as low as 3%, but typically between 5% and 20%). If your down payment is less than 20%, you will be required to pay for private mortgage insurance, which can generally be cancelled when your loan-to-value ratio reaches 80%.
VA Loan: These loans are available for eligible military veterans, service members, and spouses. They do not require a down payment or monthly mortgage insurance premium, and are guaranteed by the Department of Veterans Affairs. Although the cost to get a VA loan is low, there is still a one-time funding fee that varies based on the amount of down payment (if any) and the military category.
USDA Rural Development Loan: A USDA home loan is available to eligible rural and suburban homebuyers who are deemed to have the greatest need, including those currently without safe housing or those living below the low-income limit. These loans are issued by the United States Department of Agriculture, and require no down payment.
This is a great time of year to get pre-approved, as spring is when activity in the housing market begins to ramp up. Both real estate agents and home sellers will generally want to see a pre-approval letter before you start shopping, as a letter ensures that you are able to follow through with the purchase.
While it can be fun to start browsing houses online, getting pre-approved can save you a lot of heartache down the road. You'll be able to determine exactly how much house you can afford, you'll see where you stand financially (and will be able to make improvements if necessary), and you'll have a leg up over the competition in the bidding process when you start putting in offers.
If you are interested in learning more about Valley's home loans and figuring out which loan is right for you, stop in and see one of our friendly and professional lenders today for a personalized approach to getting you into your dream home!
View all posts