Overcoming Financial Stress This Holiday Season
10/31/2022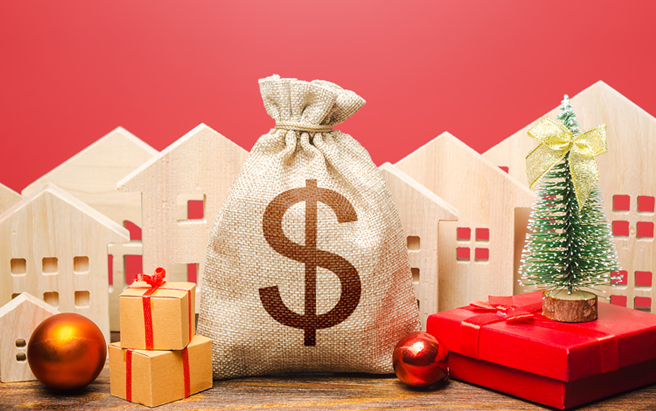 With the start of the holiday season officially upon us, there's enough buzz and excitement to fill Santa's sleigh! However, along with all the holiday cheer, there may be other factors leading the way this holiday season… and they're not his eight tiny reindeer. Infamous for nationwide spikes in spending, the holiday months can bring considerable financial stress to many. If you're looking to reign in your holiday spending, we've rounded up a list of our own to help you make the most with what you have this season.
Set a Holiday Budget
As simple as it sounds, setting a budget is key to eliminating overspending this holiday season. From gifts to donations to festivities, start by determining a realistic budget for each category and stick with it.
Rethink Your Holiday Expectations
At one point or another, we've all felt the pressure to purchase the "perfect" gift for a friend, family member, or significant other. Or, perhaps a lavish holiday party has become customary in your family. Afterall, what shows your love and appreciation more than an expensive gift or high-end dining? The expectations surrounding the holidays, although oftentimes self-induced, can stir up a lot of anxiety if you're not able to meet your high expectations.
Eliminate the pressure from the very beginning and set a precedent that is realistic given your current financial situation – starting today! Monetary value does not define a meaningful holiday, and reducing your seasonal indulgences doesn't make your festivities any less valuable. Opting for less expensive, or even free activities, is not only obtainable, but can be just as special as an extravagant affair. If you are stretched thin this season, try out a potluck dinner, a Secret Santa gift exchange, or setting spending limits on gift giving. But, most of all, discuss with those close to you and be honest about what you can realistically contribute.
Prioritize Your Needs
If you know you'll be scaling back this year, prioritize what's most important to you. Maybe you are traveling home for the holidays and decide to cut back on gifts as a result. Perhaps you bring back a cherished family tradition instead of a pricier alternative. Any aspiring Christmas carolers in your family? Evaluate what will contribute the most to a happy and healthy holiday and prioritize these above the rest.
Continue to Make Necessary Payments
It can be difficult to stay-the-course with your reoccurring monthly expenses when the holidays present many other temptations. Nonetheless, it's important to prioritize these bills before budgeting for your holiday expenses. Skipping a payment not only hurts your finances in the long run, but it also starts the new year on the wrong foot.
Earn Cash Back in the Process
Whether you're planning on making larger purchases this season or you're sticking with a modest budget, you might as well be earning rewards on your transactions! And, now through the end of 2022, you will earn double points* good towards cash back with Valley's Visa® Rewards Credit Card.
The holidays are meant to be a special and rewarding time for all. Dare we say the most wonderful time of the year? Whether you're lowering your expectations, smart budgeting, or reallocating your funds, allow yourself a financially stress-free season to focus on what truly matters during the holidays.
View all posts