Babcock Sponsorship Renewed
07/11/2022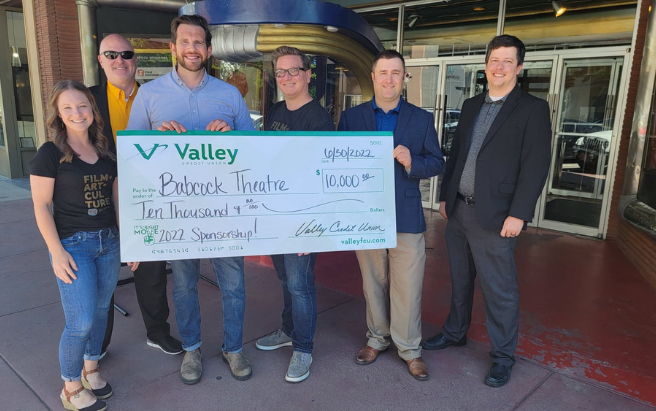 For the 3rd year in a row, Valley Credit Union is renewing its $10,000 sponsorship to the
Babcock Theatre
, a historical landmark in Downtown Billings. This sponsorship helps the Billings community experience this one of a kind non-profit.
"Being able to help support a non-profit that provides a great partnership with Valley is a big reason we continue this sponsorship," said Brandon Scala, Senior Vice President of Business Development at Valley Credit Union. "The Babcock Theatre continues to be a historic part of Downtown Billing's identity. We hope this theatre remains open for generations to come!"
A few years ago the Babcock Theatre came under ownership of the City of Billings. A local non-profit cinema called, Art House Billings, thought this would be a great opportunity for them to revive the historic theatre that has so much heritage in our city. As a non-profit they work as hard as possible to keep everything affordable, from their concessions (BEST popcorn in town) to the movie ticket itself.
"Valley's Credit Union's contribution to the Babcock not only allows us to continue our unique community programming, but gives us the opportunity to plan for the future of this historic theatre," said Matt Blakeslee, Executive Director and Founder of
Art House Billings
. " We feel the benefit of not only the financial contribution, but the relationships with Valley staff and members as well. The Babcock is truly a community theater and this sponsorship is a testament to that reality. We are all in this together!"
View all posts