Valley's Commitment to Graduates
03/07/2022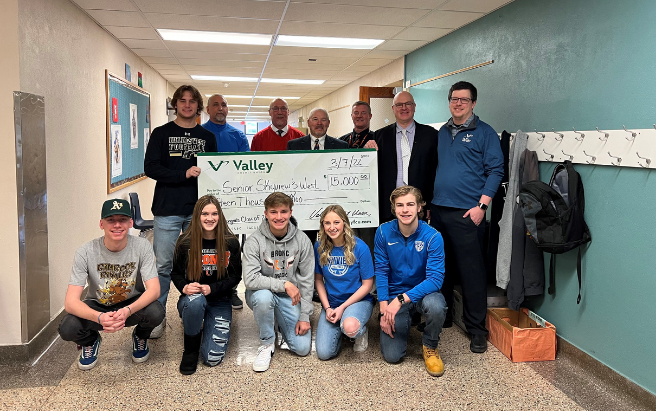 For the second year in a row, Valley Credit Union continues their commitment to Billings area kids with a $15,000 title sponsorship of the Billings All High School graduation celebrations (BAHS graduation celebrations). Each local high school (Senior, West, and Skyview) has received $5,000 from the credit union to help ensure graduating seniors get the traditional high school sendoff they deserve during each school's all-night drug and alcohol-free parties following graduation, May 29, 2022.
This tradition began over 30 years ago with parents and volunteers coming together to honor departing seniors with an all-night alcohol and drug free graduation party. Celebration plans are coming together for the class of 2022 and the BAHS Graduation Celebrations Committee. Each school will celebrate the students with all-night parties the night of graduation. Valley also sends volunteers to each school to help the night of the event. In addition to the night of the graduation parties, Valley also sends staff to support MasterLube Grad Day, May 14, 2022. MasterLube donates all the proceeds that day back to the parties.
"We at Valley are excited to renew our Title Sponsorship with BAHS graduation celebrations. The students in our community are our future leaders so we like to get behind them in any way we can," said Brandon Scala, Senior Vice President of Business Development at Valley Credit Union. "All of us here at Valley Credit Union are eager to make this a memorable affair for the students and be right there with them volunteering as they achieve this milestone!"
With over 1,200 graduating seniors this year, funding from Valley Credit Union and other donors will go towards food, prizes, scholarships, and gifts that will be distributed, guaranteeing each student leaves the festivities with something special.
"We couldn't do this without continued support from many community organizations. We are incredibly grateful to have Valley Credit Union as title sponsor for Billings All High School Graduation Celebrations again this year," said Cathy Grider, Fundraising Chair of Billings All High School Graduation Celebrations Committee. "As a community credit union, Valley has always supported our schools, and their generous commitment to the Class of 2022 will make a remarkable difference in the way our seniors will be able to remember this year and celebrate all they have accomplished. The challenges over the last few years due to Covid-19 have had a big impact on our seniors. But having the support of organizations like Valley will make a lasting, positive impact on their lives. We are thankful for Valley's continued commitment to our students and our schools."
The committee is still collecting donations. Businesses and individuals that are interested in donating or getting involved in helping to make the BAHS graduation celebrations unforgettable for local seniors can email Cathy Grider, Fundraising Chair, at
[email protected]
View all posts