National Cybersecurity Month: Protecting Yourself Online
09/21/2021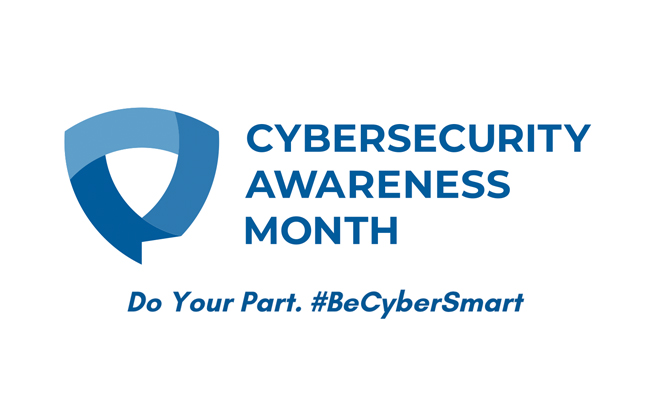 Whether it be for work, school, or just for fun, most people spend some portion of their day online. With so much time spent in the digital world, it's more important than ever to protect yourself against scammers, fraud and online phishing. In an effort to raise awareness about the importance of protecting oneself online, National Cybersecurity Month aims to help educate users about online safety.
Identity theft, fraud and online phishing are ongoing problems that are only gaining popularity as time goes on. While some scammers are easy to detect right away, others are much more clever and use convincing tactics to assure you that they're associated with a government agency, financial institution, or company you know and trust. Because financial scams and identity theft can happen to anyone at any time, it's important to know the warning signs. The following information will help you learn how to spot a scam and what to do in the event you fall victim to one.
First, know that Valley Credit Union will NEVER ask you for the following information via email, text, or phone call:
Account number
SSN
Your address
Your birthday
Your username or password
If you are ever uncertain about the authenticity of a Valley email, text or phone call, please call us at (406) 656-9100.
Types of Scams
There are many types of online scams, some of which you've likely encountered before. Here are three of the most common scams.
Phishing scams. These scams target you via an email in an attempt to trick you into giving out personal information. The emails themselves are often very well-disguised as having been sent from a reputable company or someone you know, such as a bank, social media site, or credit card company. They usually include a suspicious link or attachment, with a message about a claim that there's been suspicious activity on your account, that there is a problem with your payment information, or that they need to confirm personal information with you.
Fake lottery scams. Fake lottery scams target you by email, text, or even a pop-up online claiming that you have won a large amount of cash or other prize, and ask you to claim your prize by providing personal or financial information.
Fake check/overpayment scams. If you're selling an item online (think Facebook Marketplace, Craigslist, etc.), a scammer may send you a counterfeit check for an amount that's higher than what you were asking for. They'll then claim that this was either a mistake, or that it was to cover shipping costs. Then, the scammer will ask you to send back this "accidental" difference after you've deposited the check into your account. However, when you send back this difference, your financial institution likely won't learn for several days that this check was fraudulent. By then, the scammer has your money and, unfortunately, you'll be responsible for repaying the bank the amount of the check— plus, you'll lose any money you sent the scammer.
Tips to Avoid a Scam
While scams themselves can't be avoided, what can be avoided is falling victim to one. Here are our best tips for staying vigilant online.
Use strong passwords. Something personal and easy to remember that includes both lower and uppercase letters, numbers, and at least one symbol will help ensure that your account is secure. It's also recommended that you change your password once or twice a year.
Block unknown senders. Do not open emails from unknown senders, and always block unwanted phone numbers or email addresses as soon as possible. It's always a good rule of thumb to never provide personal information to someone if you weren't the one to initiate the conversation.
Use a VPN. Avoid using public Wi-Fi without a Virtual Private Network (VPN) whenever possible. VPNs encrypt the traffic between your device and the public Wi-Fi you're using, making it harder for scammers to access your data and information.
Look for obvious errors. Many scammers do not speak English natively, and will use a translation service when putting together their message. This often gives them the right words, but not always in the proper context or grammatical tense.
Always report suspicious online activity to the Federal Trade Commission.
Finally, always exercise common sense when purchasing online, never give out your information over the phone unless you initiate the call and know that the company is legitimate, and keep your cards secured at all times.
Even if you're familiar with the warning signs, some scammers are very convincing. In the event that you or someone you know falls victim to a scam, there are a series of steps to take. First, alert Valley Credit Union if you gave out any information specific to your accounts with us, including your account number, online banking or mobile app login, or Valley debit and credit card numbers. Next, there are a series of actionable steps to take based on the nature of the scam. For more information on these steps, click here.
View all posts