How to Manage Your Student Debt
03/30/2021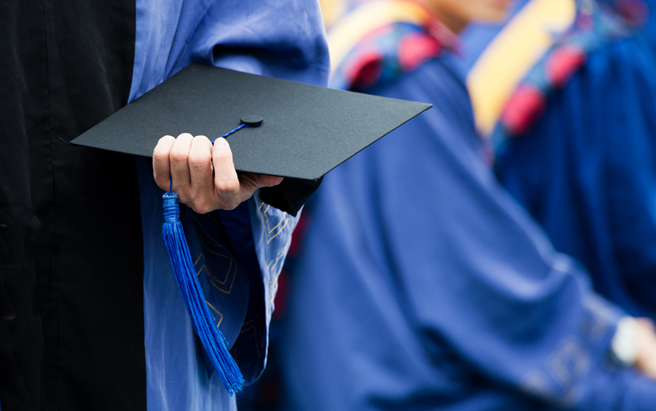 Congratulations to the Class of 2021! Graduating from high school is a great achievement, as receiving your diploma will open many doors and present wonderful opportunities for years to come. This year, Valley is proud to be the Title Sponsor for the 2021 Billings All High School Graduation Celebration! With graduation quickly approaching on May 30th, we're excited to help this year's seniors have a great time celebrating their academic accomplishments.
Whether you're a graduating senior looking forward to beginning college in the fall or a college graduate who is several years or more into your career, you know that attending college comes at a steep price. After all, 44 million Americans collectively hold over $1.6 trillion in student debt. No matter where you are in your higher-education journey, understanding how to manage your student debt can help you pay it off quicker, pay less interest in the long run, and even avoid some of your debt altogether.
For Kids of All Ages
It's never too early to start saving for college or for the future, whether your child is just learning to walk or they're preparing to take their driving test. All April long, Valley is celebrating Youth Month with a special Youth Certificate rate of 12.68% APY*. This youth certificate is only available to kids under the age of 18 and it is only available during the month of April 2021. The certificate comes with a $100 maximum and minimum and includes a 12-month term**. It's a great opportunity to start teaching your children about the power of savings and interest. We also offer a Student Checking account and multiple savings account options to help set your child up for financial success!
For High School Graduates
It's easy to brush your loans aside while you're in school— after all, you're there for four years…what's the rush, right? While it's not always possible (especially during your first year of college while you're establishing a new routine, adjusting to living away from home, and not likely to have a part-time job yet), making payments on your loans while you're still in school can save you quite a bit of money in the long run. If you do decide to get a part-time job at any point during your college years, making payments of just $50 a month on your loans will add up over time, lowering the capitalized interest you'll end up paying upon graduation. Interest that doesn't get paid off each month "capitalizes," which means this amount gets added to your total loan amount, adding thousands in interest payments to your payoff amount before you're ever able to chip away at the actual (principal) loan amount itself. Remember— the quicker your loans are paid off, the quicker you'll be able to spend your hard-earned money on what makes you happiest, including travel, electronics, or even a house!
It's also important to keep in mind that a majority of student loans are structured with you, the student, as the loan holder and your parents as cosigners. This means that you will be the one responsible for paying back your loans in full, plus any capitalized interest, upon graduation from college, even if your parents cosign and/or are helping you out. If you start college and decide after a while that it just isn't for you, you are still responsible for paying back any money that you borrowed. If this is the case, often times you'll be required to start making payments right away, but without the benefit of having the college degree you had originally sought out.
If you're planning on taking out federal student loans, the FAFSA deadline for the 2021-22 academic year is June 30, 2022 (yes, you read that correctly!) but each college may have its own deadline. Be sure to check with your college's financial aid office on all deadlines to ensure you don't miss any.
Finally, applying for scholarships isn't just for high school seniors— you can apply for scholarships throughout the duration of your time in college! While being awarded $500 here or a $1,000 there may not seem like much, you'll be happy you took the time to apply when it's time to start paying back your loans! Although this year's deadlines have passed, Valley offers scholarships to current members every spring—follow us on Facebook to be among the first to know when we post next year's scholarships!
For College Graduates
By now, you know that while having a college degree has given you an advantage in the workforce, it's come with a high price tag that you've likely already started making payments on. While all federally-held student loans have been placed on an administrative forbearance through September 30 in response to the pandemic, you should continue making payments if you're able to. Any amount you're able to contribute each month until then will help you lower any capitalized interest, and make a dent in the principal loan amount.
If you haven't already, be sure to contact your loan service provider to find out about any discounts you may be eligible for. For example, many lenders offer a discount on the interest rate when you set up automatic recurring payments. It's often a small discount (usually 0.25%) but every little bit helps. You'll also get the added bonus of never accidentally missing a payment!
You likely already know that there are many different repayment options available for borrowers. While making your monthly payments and paying extra when you're able to is great, this isn't always a possibility for everyone. Graduated repayment, extended repayment, income-driven repayment, and Pay As You Earn (PAYE) are among the most popular options, as each is designed to help you pay off your loans in the way that works best for you and your budget. While your service provider's website will explain each of these options to you, we suggest calling your service provider directly with any specific questions you may have about repayment.
Finally, if you haven't explored the option yet, debt consolidation may help lower your monthly payment if you have multiple loan servicers. Keep in mind though that you may lose your right to deferment options and income-driven repayment plans that are attached to many federal loans. Make sure that you are aware of all the stipulations associated with debt consolidation before proceeding.
While Valley is more than happy to help you find savings solutions to help you fund or pay back a college education, we are not student loan service providers or student loan debt consolidation experts. In all cases, whether you're a college freshman or you graduated years ago, it's best to contact your loan servicer directly with any concerns or questions about your loans, adjusting your payment schedule, etc.
Once again, congratulations to the Class of 2021! Your well-deserved accomplishment does not go unnoticed, and we look forward to your future success, no matter what adventures await you beyond high school.
View all posts