Financing a Summer Vacation
06/01/2019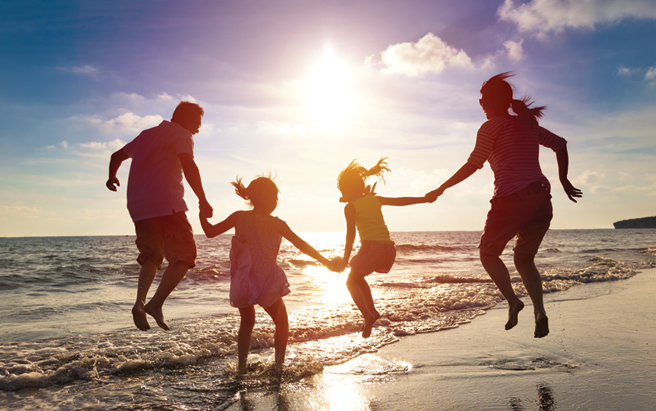 After a long and brutal winter, summer has finally arrived! The weather is beautiful, the days are long, and the kids are out of school. With so much free time on everyone's plates, many families make plans for a summer vacation. Many of those same families, however, will find themselves further in debt by doing so.
A recent poll from John Hancock showed that while 55% of Americans are taking a summer vacation this year, more than half of them don't have a savings goal in place to fund their getaway. Vacations are an escape from the routine of real life, making it easier to throw financial caution to the wind, but they shouldn't place a strain on your annual budget. If you're financing a summer vacation this year, here are a few ways to avoid racking up debt and paying the price for it later — literally.
Determine Your Budget

As with many aspects of everyday life, determining and sticking to a budget for your vacation is key. Once you know how much you'll have to work with, establish a vacation savings fund. One of the easiest ways to ensure that you'll consistently add to your fund is to automate your savings so that you are contributing a set amount from every paycheck. More than likely, you won't even miss the money if it's automatically stashed away every month.
Compare Prices

Now that you know your budget and are actively saving for your vacation, start comparing prices. Many websites like Expedia and Travelocity offer discounts and other savings when you purchase everything as a bundle. You can also save a little on lodging by traveling with friends or other family members and renting a home through Airbnb or VRBO. If your destination can be reached by driving, toughing out that 12-hour car ride will leave you more to spend on meals and entertainment than flying would have, and you won't have to spend money on a rental car once you get there. From package deals to booking everything separately to finding more cost efficient ways to travel, it's important to consider all of your options so that you know you're getting the best deal and spending your hard-earned money as efficiently as possible.
Cut Back

Extra expenses could be holding you back from your vacation. Consider all of the small things you spend money on day-to-day. Car washes, daily stops at the coffeeshop, regular manicures and going out to lunch are all fun extras that you can save money on by doing yourself at home, even for just a few months while you're saving. Build your vacation fund even more by having a garage sale and selling any unwanted items around the house. The money you save on extra expenses and earn from decluttering your home can pay for meals, gas, or a shopping trip during your getaway.
Pay Upfront

It can be tempting to throw your vacation on a credit card with the "I'll pay it back later" mentality, especially when the thought of relaxing on a white sand beach under a palm tree is clouding your judgment. The only time you should ever charge the entire expense of a vacation on a credit card is if you are able to immediately pay off the balance in full. Otherwise, you'll be stuck with higher minimum required payments and larger interest charges for months or even years— which probably puts a damper on that earlier thought of relaxing on the beach.
Wait

If you don't have the money to finance your vacation without accumulating debt in the process, wait until you do. If necessary, start saving for your dream summer getaway THIS year, and take smaller "mini" vacations in the meantime to satisfy your wanderlust. A weekend trip to a nearby town or a Saturday afternoon spent patio hopping around your town's breweries will still give you a chance to relax and take a break from the everyday grind without breaking the bank or maxing out your credit card.
Saving money to finance a summer vacation isn't always easy, but Valley can help. Our Rewards Savings account links to and automatically transfers rewards from your Rewards Checking account, and you earn 0.75% APY* for simple, everyday banking. No matter how you choose to save, our friendly and knowledgeable account representatives are here to help you hit the road this summer!
View all posts