People Helping People...That's What We Do!
11/01/2018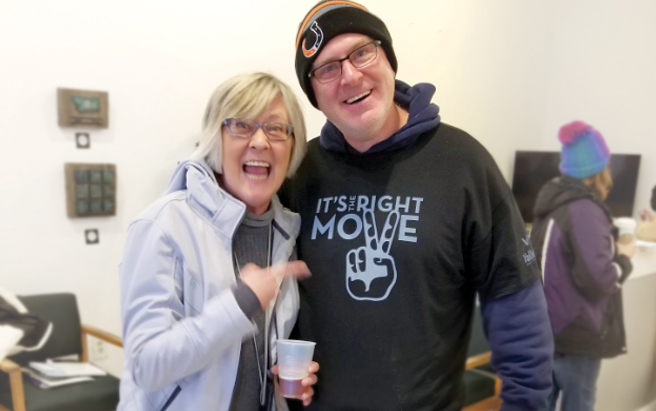 Valley was founded on the promise that we'd provide accommodating, personalized service alongside top-notch financial services for our members. As a not-for-profit organization we focus on returning value to our members and not on driving profits for shareholders. As a credit union, our members are our owners and over the last 69 years, we have strived to make sure that our members are the recipients of our hard work. When a member shares their incredible experience it reinforces the importance of what we do and what Valley is all about!
One of our members, Marci, recently ran into our Business Development Rep, Brandon Scala, at a community event. Marci introduced herself and wanted to share the story of how she came to Valley with Brandon.
Marci wasn't very satisfied with where she was banking at that time. Marci was taking care of her parents even though it was putting a strain on her financially. However, as Marci said "It's your parents, you do what you have to do." When Marci reached out to her bank for some help, she left without receiving what she needed even though she had banked there for 25 years. Of course, Marci was left feeling frustrated and unsure of what to do next. A few acquaintances with an account at Valley suggested she stop by because "they were awesome and help people out." Marci stopped by our Grand Branch and met Jade who took care of her and made her feel like everything was going to be ok. Marci and Jade worked together and were able to get her "put together financially" and "saved her life." Marci told Brandon that "Valley was The Right Move for me for sure!" Brandon said it was awesome to see the joy on her face and hear her say she'd "do anything for Valley."
With Marci's permission, we share this amazing story with you and our Valley team and it makes us all feel like the hard work we put in for members every day is totally worth it! We know that all of our members have different stories and experiences that have led them to Valley. We're motivated each and every day by all of our members inspiring stories and daily interactions.
Thank you to all of members for letting us be an important part of your life. We'll continue to strive to provide you with the personalized and top-notch services you've come to expect from Valley!
View all posts