Are You Ready to Buy a Car?
07/01/2018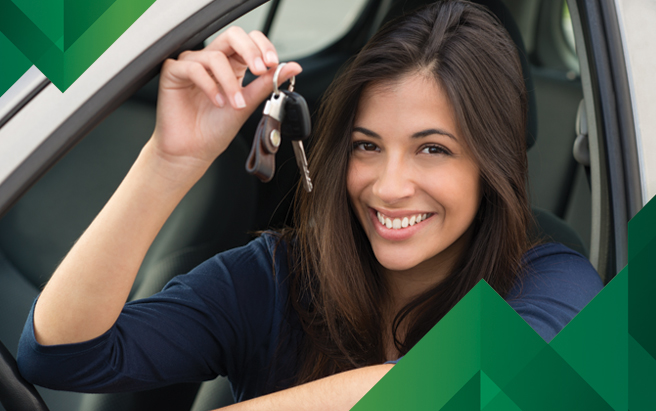 Buying a new or new-to-you car is often a very exciting time. However, it can also be a very busy and confusing time as you navigate financing approval, finding the perfect car and all the paperwork for your new vehicle. Planning for your vehicle purchase can you save you a lot of time and headache. To get you started, we put together a quick guide to help you navigate the car buying process.
Preparation – Check Your Credit Score & Save For A Down Payment
As you start thinking about buying a new car, make sure you check your credit score first. A higher credit score means a lower rate and a lower rate means lower payments! Valley can help you build your credit score to make sure you get the best rates possible. If you're just getting started for example our First-Time Car Buyer Program is a great way to get started building credit and finance your first vehicle purchase!
While you work on your credit score, remember to start saving towards a down payment for your purchase. A down payment of 20% will help lower your payments. Plus, you'll already be well on your way to owning your car!
Step 1 – Get Pre-approved
Before you ever step foot on a car lot, make sure you get pre-approved. A pre-approval means that a financial institution has reviewed your information and can give you an estimate of the loan amount and rate that you're likely to receive once you buy a car. This will help you set your budget and shop for a car you can afford. Pre-approval will also help you shop for the best rate. Once you're pre-approved, you'll know your budget and what sort of cars you can look at. Cash buyers have more negotiating power, too, because the dealer knows your serious. Stop by Valley and meet with one of your lenders, they'll help make sure you're ready to buy.
Step 2 – Deciding What You Want
There are many options when it comes to car shopping. You can buy a new car, a Certified Pre-owned car or even a used car. You can visit dealerships, search online or check your local classifieds. However, be aware of scams that ask for money upfront or ask that you place a deposit in an escrow account.
New cars come with warranties and very little if any wear and tear. This makes them a reliable option. However, they are the most expensive to purchase and some of the value is lost as soon as you leave the car lot. Certified Pre-owned vehicles are a more affordable option than new and are still reliable because they have been inspected and refurbished before being sold. They will have higher miles and more wear and tear than a new car. Used cars are usually the most affordable, but you need to make sure you check the car's history and even have your mechanic inspect it before you buy.
Step 3 – Find a Car and Test Drive
Once you've decided whether you want to buy new or used, you can start shopping for and test driving some vehicles. We recommend you test a few because each car will have its own unique features. Remember to try and test each vehicle in close succession so that you can easily compare them!
Valley members can use the AskAuto app to help them save and compare vehicle information. You can compare vehicles you find and get information on your loan or even apply for a loan. Using the vehicles VIN you'll receive the average cost for new and used cars, EPA mileage estimates and a lot more information. Then you can rank, compare and keep notes on all the cars you've added to your app.
Step 4 – Negotiate a Price
Once you've test driven a few cars and you know what you like, do some research before making an offer on the car. The AskAuto app is a great place to start. This way you'll know what the right vehicle is worth. The more you know, the easier the negotiation process is going to be.
So, you've found the perfect car? Great! If the dealer wants to negotiate the price based on the monthly payment, politely but firmly tell them you want to focus on the total price of the car. Remember, you've been pre-approved so you're a cash buyer and you know what your monthly payment will be. Take your time during the negotiation and even write down the numbers you discuss. Always ask if the price they are quoting you includes taxes and fees. Ask the dealer for a breakdown of the fees that are included in the price. Sometimes the dealer might include extra warranties or maintenance plans you aren't interested in. Make sure you're clear up front about whether you want those included.
Finally, be prepared to walk away from the deal. If the dealer won't meet the price that you've determined to be fair based on your research it might be a good time to take a break. Sometimes sleeping on it can help you identify exactly what you like about the car so you can find another option somewhere else. Plus, who knows, the dealer might even decide your offer is fair.
Step 5 – Enjoy Your New Ride!
Once you've finalized the sales price you'll probably meet with the finance manager to review the purchase and finalize documentation. If the finance manager offers to beat the pre-approved rate you have, hear him out. Just make sure that his offer includes the same terms as your pre-approved loan. You'll also take care of any sales taxes and documentation fees at this point and the dealer may even register your car for you. Keep a close eye on what you're signing though and make sure the terms are correct and they don't include any additional warranties or maintenance plans you didn't agree too.
Once you head home in your new car, make sure you drive by Valley and give us a honk and a wave. We hope your new purchase is exactly what you wanted and that we'll get to be a part of your car buying process!
View all posts