5 Ways to Save on Wedding Costs
05/24/2021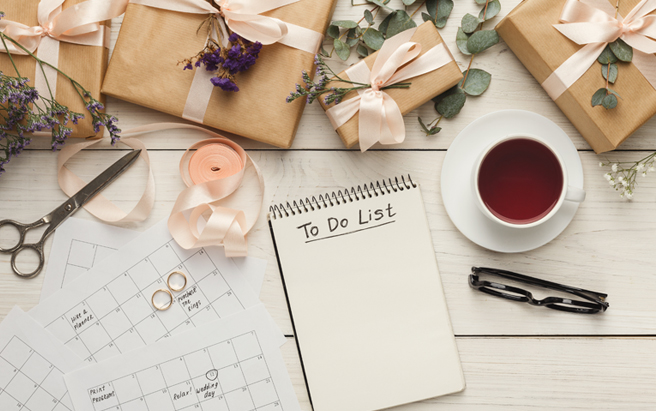 Your wedding day is a huge milestone. But, it can also become a stressful (and outrageously expensive) affair pretty quickly. Planning a wedding requires attention to detail, and it's easy to go overbudget if you don't do your research and plan ahead beforehand. After all, the average cost of a wedding in 2019 rang in at a whopping $33,900.
Between choosing your wedding party members, finding vendors that are willing to work with your budget, and planning the logistics of how your big day will unfold, it's easy to quickly become overwhelmed. Add in all the associated costs required to make your day a reality, and suddenly the decision to elope looks a lot more appealing. And, while you can absolutely skip the big wedding and plan an elopement instead, there ARE ways to save big-time on your special day if you don't want to give up the experience or memories of a traditional wedding. Here are five great ways to save money when planning your wedding!
Get married on a weekday.
Venues are often significantly more expensive on the weekend. If you book on a weekday, you'll likely only be allowed to access the venue the day of your wedding and will have to be completely off the premises by midnight, but if this doesn't bother you, it's a great way to save. Unless you find a great package that includes use of the venue for the entire weekend, choosing to book your wedding on a weekday could save you thousands on your venue budget.
Rent or DIY your florals.
The average cost of fresh flowers for a wedding is around $2,000 for large weddings, and $1,500 for small to medium size weddings. If you're on a budget, you can save a bit by purchasing stems and greenery (either real flowers or silk flowers) and DIYing the bouquets, boutonnieres, and décor yourself ahead of time. Or, if you want to maximize your savings AND minimize the time and stress of assembling everything yourself, renting your bouquets and décor from one of multiple online vendors is an excellent choice.
Have the entire wedding at one venue.
Unless your ceremony will be in a church or another place of worship that doesn't have the capacity to support the reception, having your entire wedding at one venue will eliminate any added costs for transportation between venues. An all-in-one venue also allows for less planning, more photography and videography options, and a more seamless transition for your guests from the ceremony area to the cocktail hour area.
Opt for a dessert bar.
Wedding cakes are expensive, and often times, a majority of the cake goes uneaten. Instead, choose a small, 6" round cake for the traditional cake-cutting moment, then supplement it with a dessert table. From mini cupcakes to cake pops to cheesecake bars, the possibilities are endless (and typically far less expensive) than a traditional multi-tiered cake!
Skip the favors.
Favors often get left behind, thrown in the trash, or completely overlooked. You're already providing your guests with cocktails, dinner, dessert and entertainment— chances are, your guests won't even notice whether or not there were any favors to begin with. Plus, skipping favors allows you to put that portion of your budget to better use, whether it's the DJ, the bar, or even an extra honeymoon night.
Planning a wedding is stressful enough on its own without the added pressure to spend more than you can afford to. At the end of the day, it's important to do what you and your fiancé want, not what others want you to do— after all, it's your day! If you're in the midst of planning a wedding, or know that you will be soon, Valley's Rewards Savings account is a great way to earn competitive dividends and maximize your wedding savings.
View all posts