How to Create a Realistic Budget for 2020
01/01/2020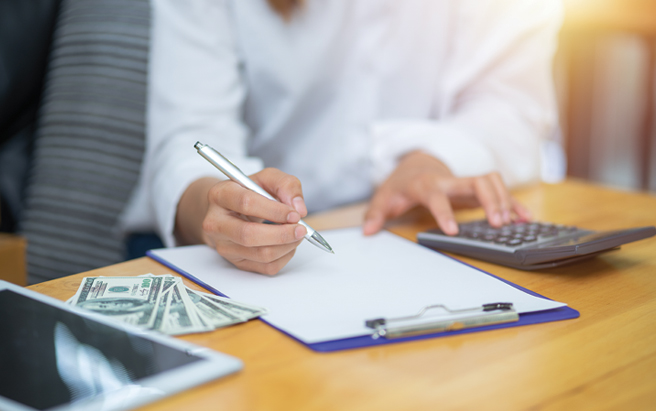 Budgeting isn't easy. In fact, creating a budget is just half the battle— the other half is actually sticking to it throughout the year. While budgeting can feel as though you're limiting your freedom, in reality, budgeting gives you freedom. It helps you achieve the financial goals you're working towards, whether it be to build up your savings, pay off high interest credit card debt, or limit your spending at the grocery store every month.
Tracking your expenses and income, creating a budget, and holding yourself accountable throughout the year can seem daunting, but it's necessary if you want to take control of your finances. If your spending habits were less than ideal in 2019, now is a great time to take a step back and really analyze how you can start making changes to ensure that you don't overspend in 2020.
Review Last Year's Spending
When you look back at your 2019 spending, what do you notice? Did you eat out too many times? How many impulse purchases did you make? By looking back, you can quickly pinpoint which areas need improvement this year. Whether it's saving to buy a house, making more than the minimum required payment on your student loans, or simply cutting out your morning coffee trips, you can decide what you want to focus on most in 2020.
Determine Your Income
Take a look at your monthly income and, if you're married, be sure to factor in your spouse's income too. Don't forget about additional income sources like alimony, child support, dividends and rental income, if applicable. Knowing exactly how much money is coming in every month makes creating a budget much easier and more realistic.
List All Expenses
Be sure to account for all monthly expenses, both fixed and variable. Because variable expenses change every month, shift your estimates toward the high side. This gives you a little breathing room in case your utilities, for example, are high one month but much lower the next. In addition, set aside a small amount every month to cover unexpected or irregular expenses, including haircuts, vet bills, wedding gifts, etc. Keep in mind that every month is different. Some months, you'll have to budget for birthdays, back-to-school supplies, or routine car maintenance. Don't forget to budget for long-term expenses too, which includes those you only pay once or twice a year— think car insurance, annual vehicle registration, and dental checkups. Finally, and most important, be sure to pay yourself by budgeting for savings.
Make Adjustments
If, after subtracting all of your expenses from your income, you're left with any amount other than zero, your budget may need some revision, especially if you come up negative. It's a good idea not only to track all of your incoming dollars, but to also assign each of those dollars to an expense or your savings to eliminate the temptation to either overspend or make unnecessary purchases. If you find that you're getting to the end of the month and you're dipping into your savings to cover your bills, your budget needs to be adjusted. It's important to know that it can take a few months of continually making small changes here and there as you get accustomed to your new budget, so be patient with yourself if the plan you've created isn't perfect yet.
Following a budget is necessary in order to take control of your finances and achieve financial freedom. As long as your budget is causing you to be more intentional with your money and more conscious of your spending habits, and is showing you signs of progress with whatever your goals are, then your budget is working. At the end of the day, don't get discouraged if you get off track from time to time though— life happens. Just make sure to get back on track as soon as possible!
If the start of the new year has left you with last year's holiday debt that you're having a difficult time working into your new budget, Valley can help! Transfer your high interest credit card balances over to a Visa® Platinum Credit Card, and take advantage of a 6 month introductory rate as low as 1.99% APR* and rates as low as 9.49% APR* after 6 months. To learn more about this promotion and how you can take control of your debt in 2020, apply online or visit your local branch for more information!
View all posts