Planning for Retirement
12/01/2019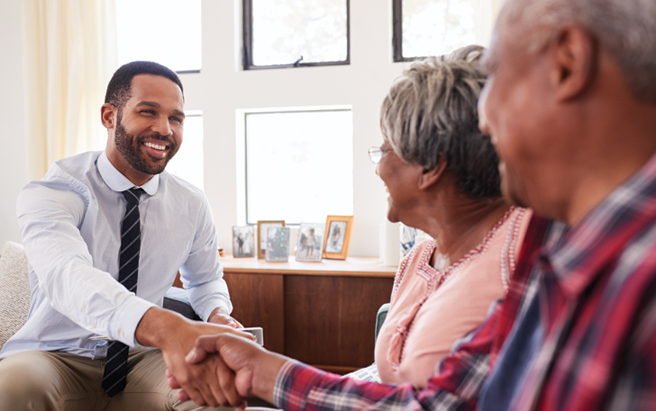 Planning For Retirement
Having the freedom to travel, more time to spend on hobbies, and no more days spent at the office are just a few of the benefits that come with retirement. Although it sounds relaxing, retirement can quickly become a nightmare for those who aren't prepared. As of last year, only 32% of Americans were on track to covering 95% of their pre-retirement expenses. Even more troubling, one in three Americans have less than $5,000 saved for retirement, and 21% of Americans have no retirement savings at all.
How Much Do I Need to Retire?
A general rule of thumb is that you'll need to save 80% of your pre-retirement income after you retire in order to maintain the standard of living that you're accustomed to. For example, if you made $100,000 per year prior to retiring, you'd need $80,000 per year after retirement. The 80% rule takes into account that you, in theory, won't need 100% of your pre-retirement income because some of those expenses will no longer exist, including payroll taxes, commuting costs, and of course, your contributions to your retirement savings plan. However, because many retirees ramp up traveling, saving the full 100% (or more) may be necessary. Regardless, it's important to save for your retirement. As a guideline, here are a few steps to take for every age group.
In your 20s, you are just starting your career. Though you aren't earning as much as your older and more experienced colleagues, time is your biggest asset right now. Be sure to take advantage of your employer's match in the company retirement plan, as this is essentially free money. The earlier you start saving, the more time your contributions will have to compound and grow by the time you hit retirement age.
By the time you reach your 30s, you may have started a family, bought a house, or both. You're further into your career now than you were in your 20s, so be sure to bump up your retirement contributions every year if you haven't already been doing so. You may also consider opening a Roth IRA account to supplement your savings.
By now, your career is in full swing. Though you may be thinking about how to finance your children's college tuition, don't let this deter you from paying off any outstanding debt of your own. Start with high-interest loans, like credit cards. During this time, work on minimizing your spending and maxing out your retirement accounts.
Your 50s are your peak earning years. Continue paying off any outstanding debt so you don't start your retirement with a monthly loan payment. If you haven't already thought about it, now is the time to purchase long-term care insurance. If you've reached your 50s and your savings isn't where you'd like it to be, don't worry! First, consider staying in the workforce longer— you'll continue to pay into Social Security, and these earnings can help offset the years you didn't earn very much, like your 20s. Second, downsizing your home will help you save on taxes and insurance. Finally, the Internal Revenue Code increases the contribution limits for tax-free retirement accounts beginning the year in which you turn 50, allowing you to play catch-up if necessary.
You're almost there! With retirement on the near horizon, your 60s are likely to be your highest earning years. Consider adding an Individual Retirement Account (IRA) if you're already funding your company's retirement plan to the max. If the money from your savings, pensions, and annuities are enough every month, consider holding off on collecting Social Security until you reach 70.5 years of age, as this is when required minimum distributions must be taken each year.
Thinking about and actively saving for retirement is daunting at any age, but the good news is there are steps you can start taking today, whether you're decades away from retiring or just a few years shy of the finish line. Valley offers the Classic 55 Checking account to members who are at least 55 years of age, which comes with a variety of benefits including no monthly service charge, no minimum balance, and exclusive premiums. Valley IRAs are also available, including both traditional and Roth IRA options.
To learn more about Valley's checking and savings account options for retirement, stop by your local branch to visit with one of our friendly and knowledgeable member representatives!
View all posts